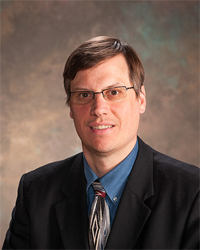 Steven Ziemba, PhD
715-389-7644
Associate Director, Marshfield Clinic Research Foundation
Steven Ziemba, PhD serves as the chief administrator for the daily operations of MCRF, including financial performance, faculty recruitment and retention, philanthropy, compliance and regulatory matters. Originally from New Jersey, Steve has a diverse background in biomedical science and healthcare administration. While in New Jersey, he earned his BS with Honors in Biology from New Jersey City University, an MS in Biomedical Science from the University of Medicine and Dentistry of NJ (now Rutgers) and an MBA with a concentration in Pharmaceutical Industry Studies from Fairleigh Dickinson University. At the time, he was employed in the molecular diagnostics industry with Roche Molecular Systems, where he was a Senior Scientist in oligonucleotide synthesis.
Steve changed his career to research administration with a move to Georgia, where he was the Director of Clinical Research for Phoebe Putney Memorial Hospital. In addition to his role as Director, he was active in health services research, including the use of telemedicine for behavioral health, cancer care for disparate populations and best practices in clinical research conduct. At this time, he earned his Post-Masters Certificate in Research Administration from Emmanuel College and his PhD in Human Services, with a concentration on Healthcare Administration, from Capella University. He has also earned professional certifications as a Certified Clinical Research Coordinator (CCRC), Certified IRB Professional (CIP) and is a Fellow of the American College of Healthcare Executives (FACHE).
In addition to his professional role as Associate Director, Steve serves on the Board of Trustees for the Association of Clinical Research Professionals (ACRP). He is also active in national committees and editorial review boards and is a member of ACRP, Public Responsibility in Medicine and Research (PRIM&R) and the American College of Healthcare Executives (ACHE).