Marshfield Clinic Research Foundation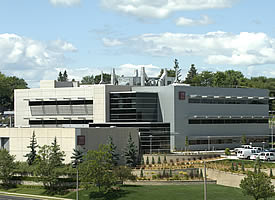 The mission of the Marshfield Clinic Research Foundation (MCRF) is to discover and communicate scientific knowledge that substantially improves human health and well-being. The MCRF mission supports the Marshfield Clinic mission to serve patients through accessible, high quality health care, research and education.
MCRF, a division of Marshfield Clinic, was founded in 1959. It is the largest private medical research institute in Wisconsin, with 31 Ph.D. and M.D. scientists and 155 other staff. In addition, approximately 150 physicians and other healthcare professionals throughout the Marshfield Clinic system are engaged in medical research.
MCRF consists of research centers in clinical research, agricultural health and safety, epidemiology, human genetics, and biomedical informatics. It also provides a range of support services for physician and scientist investigators, including biostatistics, protocol and grant preparation, research publication and core laboratory support. Approximately 450 clinical trials and other research projects are active at any one time. Marshfield Clinic investigators publish extensively in peer-reviewed medical and scientificjournals addressing a wide range of diseases and other health issues, including cancer, heart disease, diabetes, eye disease, neurological disease, pediatrics, radiology, women's health, agricultural safety and genetics.
MCRF publishes Clinical Medicine & Research, and the Journal of Agromedicine, both of which are nationally indexed professional journals. MCRF's Summer Research Intern Program provides research opportunities to motivated college students interested in careers in biomedical science and health care.
MCRF is governed by a Board of Trustees, half of whom are community members and half physicians and scientists. MCRF maintains an Institutional Review Board, which is responsible for the protection of human research participants, and other standing committees essential to the research process.
MCRF has offices and laboratories in the Lawton Center for Research and Education and the Laird Center for Medical Research in Marshfield. It also has clinical research staff supporting physician-led research at medical centers in each of the Clinic's four regional divisions.